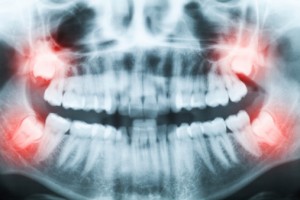 Many teens and adults wonder if having their wisdom teeth removed is necessary. These third molars, after all, serve no purpose and often cause complications later in life. At Dental Expressions in Oklahoma City, OK, Dr. Natalie Frazier and Dr. Colin Holman are always happy to sit down with our patients to discuss treatment options and what would best suit their needs. If you are wondering if wisdom tooth extraction is necessary for you, we'd like to help.
When is Wisdom Teeth Removal Needed?
When a wisdom tooth fails to erupt properly, it can actually grow in a variety of different directions, including toward or away from adjacent teeth. In other cases, it may become lodged within the bone of the jaw itself, a situation that may cause immense pain and even damage to the nerves deep within the jaw. In other cases, a wisdom tooth may erupt only partially, creating an opening in the gum tissue through which bacteria may cross and cause an infection. Symptoms of an impacted or infected wisdom tooth include:
Localized pain
Redness and inflammation of the gums
Tenderness and bleeding
Foul breath
Swelling in the jaw
A persistent and unexplained bad taste in the mouth
Headaches
It is important to keep in mind that not all patients who have impacted wisdom teeth experience symptoms. Regular checkups at our office will help determine whether or not your wisdom teeth are likely to cause problems before you feel pain or develop an infection.
Schedule Your One-on-One Consultation Today
Whether your wisdom teeth have begun to erupt already or you are concerned that they may be impacted, we are here to help with a comprehensive selection of general, family, and restorative dentistry solutions. Contact our office in Oklahoma City, OK today to reserve your appointment with our caring, experienced doctors. We look forward to talking with you, assessing your case, and recommending the treatment plan that best suits your unique needs. Our state-of-the-art dental practice in OKC happily welcomes patients from throughout the surrounding areas as well, including Moore, Norman, Midwest City, and beyond.