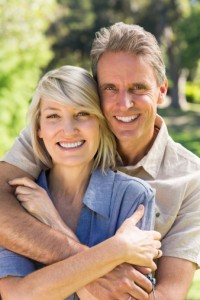 Replacing missing teeth is of great importance for a variety of reasons, including improving your ability to eat and speak properly. At Dental Expressions in Oklahoma City, OK, Dr. Colin Holman and Dr. Natalie Frazier offer a wide range of restorative dentistry options to help reconstruct your dentition, including conventional dentures and implant-supported dentures.
Are Dentures Right for Me?
When most people think of dentures, the image of a full set of false teeth is typically the first thing that comes to mind. These are called complete dentures, and they effectively take the place of an entire arch of missing teeth. At Dental Expressions, we will ensure that your complete dentures look natural and feel comfortable so that you can once again fully enjoy eating, speaking, and smiling with a full set of teeth.
Partial dentures also replace missing teeth, though they differ from conventional dentures in that they replace only a few teeth rather than an entire arch. The custom-crafted prosthetic teeth are color-matched to your existing dentition for the most natural look possible. Partial dentures not only replace missing teeth for improved function and aesthetics; they also help prevent other teeth from shifting.
A consultation with the team at Dental Expressions will aid in determining which type of dentures are right for you. We'll take the time to sit down with you and discuss all available options to ensure that we find the ideal solution for your unique situation. If you are interested in implant-retained dentures, we'll explain the dental implant process and develop a treatment plan that best suits your individual needs.
Start Rebuilding Your Smile Today
Whether you currently wear dentures and you are interested in the possibilities afforded by implant-supported prosthetics or you are planning to undergo an extraction and you'd like to learn more about your restorative dental options, we are here to help. From our conveniently located office in Oklahoma City, OK, our doctors proudly serve patients from throughout the surrounding areas, including Midwest City, Moore, Norman, and beyond. Contact our office today; we can't wait to show you what a difference our commitment to quality dentistry and your satisfaction can make for you!